Pysanka Parties Eggs-plained
Discover the magic of an amazing pysanka birthday party to celebrate your special day! With basic tools and proper instruction anyone can make a beautiful pysanka the traditional way. Not only is it easy and fun, it's also a valuable learning experience. It gives children of all ages confidence to create something unique and beautiful. Not only do they learn an ancient technique, they respect instructions and the responsibility of using tools and equipment. You can enjoy yourself, too, since everything is provided and we take care of everything from set-up to clean-up!
Even at a very young age, children can be proud of what they've created.
Eggs-actly what does a pysanka party include?
2 hours of hands-on fun in our spacious studios (or custom-timed for your convenience)
all tools and equipment
easy, well thought out, step-by-step instructions
captivating video
teaching aids (visual, auditory, sensory, etc.)
examples and choices to encourage creativity
eggs that have been emptied and rinsed out
theme-related party loot bags
Party Eggs-tras
hands-on tour of our onsite Pysanky Gallery featuring thousands of eggs, artifacts and things to touch
age appropriate story in our onsite Pysanka Library
Eggs-traordinary Loot Bags
As a memento of this special occasion, party guests each take home a colourful gift bag containing:
a beautiful hand-made pysanka that they proudly made themselves on an empty eggshell
a Certificate of Authenticity
an attractive egg stand to safely display thekeepsake
all the tools to practice and enjoy the activity again with their newly acquired skill

step-by-step instructions
coloured designs, helpful hints, important information, practice designs
eggshell dyes
size medium kistka
pure beeswax
bookmark
Our Eggs-ceptional Studios
located in Richmond, BC
fully equipped for hands-on fun
theme-related decorations are provided
Studio A accommodates 8 people comfortably
Studio B for 10 people or more can be used for:

larger parties
catered food service or bring your own snacks
play or activity area for younger siblings or guests
Ages
What to wear
comfortable clothing
long hair tied back in pony tail
Want to do it yourself?
Contact us for more information about a custom Party Pak such as the one pictured to the right

Custom Party Pak for a party of 5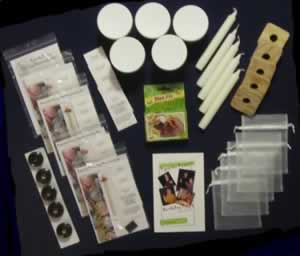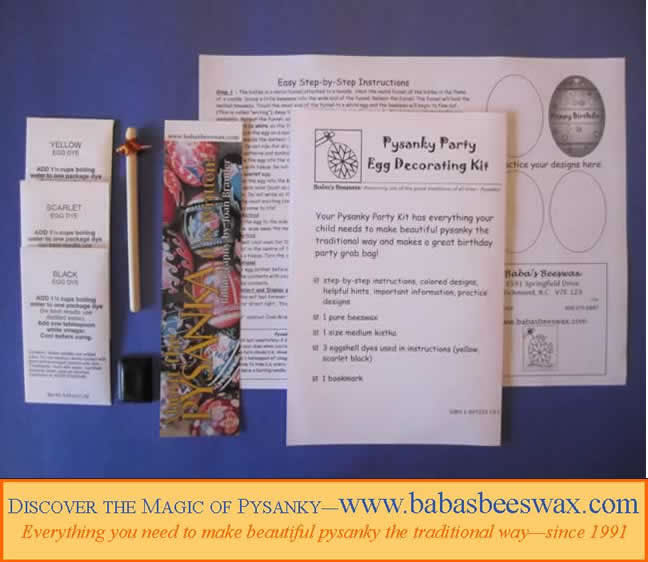 Pysanky Party Kits - have everything your child needs for a party with friends and can be used for a theme-based birthday party grab bag! this kit features step-by-step instructions, colored designs, helpful hints, important information and practice designs; 1 pure beeswax; 1 size medium kistka; 3 pysanky dyes used in the instructions (yellow, scarlet, black), and 1 bookmark for only $14.99. The party grab bag can also be enhanced with egg stands or other pysanky supplies.